Alcatraz, Bike the Bridge and Big Bus Tour Package
This package includes the official Alcatraz Island tour, Blazing Saddles' Golden Gate Bridge guided bike tour; and the One-Day Premium hop on hop off ticket from Big Bus.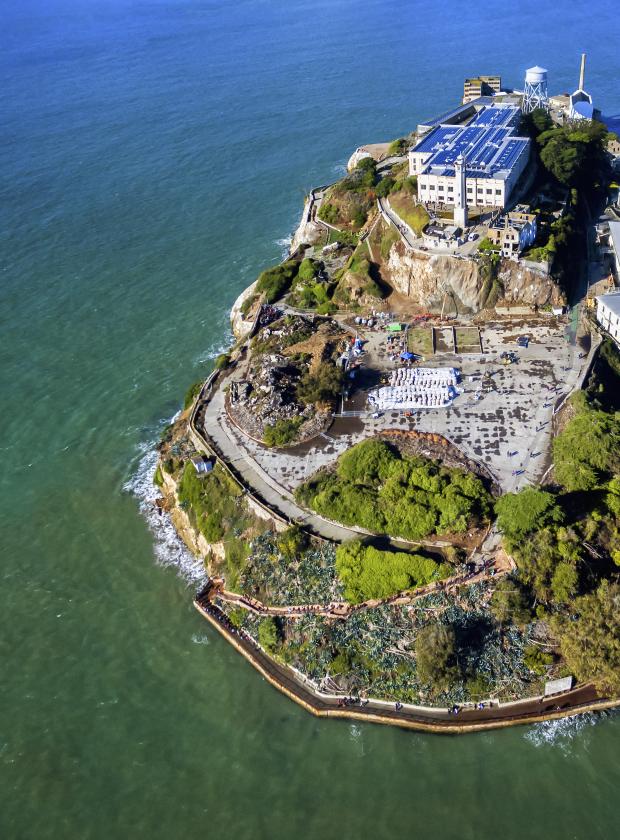 Experience infamous Alcatraz Island up close with the official U.S. National Parks Service Alcatraz tour! A quick ferry boat ride from San Francisco will take you to The Rock, where you'll explore the prison blocks, cells, and outlying buildings that made up the most feared prison in the United States. Learn about the island's history from some of its more notorious inmates through the award-winning audio headset tour, available in eleven different languages. Return via ferry whenever you're ready!
Just pick a date above and book your Alcatraz tour!
The Alcatraz Island day tour is a $39.90 value.
Points of Interest
Alcatraz Island
Historic Gardens
Abundant Wildlife
Views of San Francisco and the Bay
What's Included
Day Tour of Alcatraz Island
Orientation Video by Discovery Channel
45-minute Cellblock Audio Tour
Ranger and Docent Tours
Round-trip ferry to and from Alcatraz Island
Golden Gate Bridge Guided Bike Tour
Bike the Bridge! Ride with our guides along San Francisco's stunning waterfront. Truly the best way to see the bay, this tour is perfect for families and individuals seeking an up-close & personal look at our city's most celebrated landmark.
The tour begins at the picturesque Aquatic Park in Fisherman's Wharf. The mostly flat National Park Bike Path will take you through Fort Mason, the Marina, Presidio National Park, and onto the iconic Golden Gate Bridge! Along the way, our local guide will share entertaining and educational information with you, including the history behind the Golden Gate Bridge. You'll cross the bridge on the sidewalk with stunning views of the city and bay, followed by a 10 minute downhill ride taking you right into the charming bayside town of Sausalito. Once there, most people choose to grab a bite to eat, relax, shop and enjoy Sausalito's famously wonderful weather before taking their bikes on the ferry and returning to San Francisco.
This tour departs at 10 am & 1 pm daily from our 2715 Hyde Street location. Please arrive 15 minutes early for bike fitting and orientation.
Points of Interest
Aquatic Park/Fisherman's Wharf
Fort Mason
Palace of Fine Arts
Crissy Field
Fort Point
Golden Gate Bridge
Sausalito
What's Included
All-Day Deluxe Comfort Bike Rental
Guide
Helmet
Lock
Handlebar bag
Custom map
Bike fitting & orientation
Rear rack for bags & purses
Bottled Water
Big Bus One-Day Premium Ticket
Hop on the Big Bus for a comprehensive sightseeing tour loop of San Francisco!
This package includes an open-top hop on hop off sightseeing bus pass that's good for a full day — any day within 6 months.
Enjoy the live English-speaking guides' exciting and educational commentary, or the recorded audio guide in English, Spanish, French, German, Italian, Mandarin, Japanese, Korean, Portuguese or Cantonese.
If something catches your eye, hop off at one of the 16+2 stops and explore by foot. Buses arrive every 15-20 minutes, so hop on the next bus when you're ready.
Also included in the Premium One-Day Big Bus ticket:
a bus tour to Sausalito on the Green Big Bus line,
a walking tour in Chinatown,
a $5.50 beverage voucher at Players Arcade.
Points of Interest
North Beach / Chinatown
Embarcadero Center
Ferry Building
Union Square
Hilton Hotel
Civic Center
Alamo Square
Haight Ashbury
Golden Gate Park (Monday-Saturday only)
Golden Gate Bridge, North Vista Point
Palace of Fine Arts
Marina / Cow Hollow
Lombard Street
Pier 35 — Cruise Terminal
Fisherman's Wharf / Pier 39
Downtown Sausalito
Golden Gate Bridge South
What's Included
Big Bus sightseeing loop tour (Red Route)
Bonus: Big Bus Sausalito tour (Green Route)
Bonus: A walking tour in Chinatown
Bonus: Voucher for Players Arcade and Grill
Bonus: 1 extra hour of bike rental at Blazing Saddles