Customer satisfaction is one of our main priorities at Blazing Saddles. Check out some of our reviews below!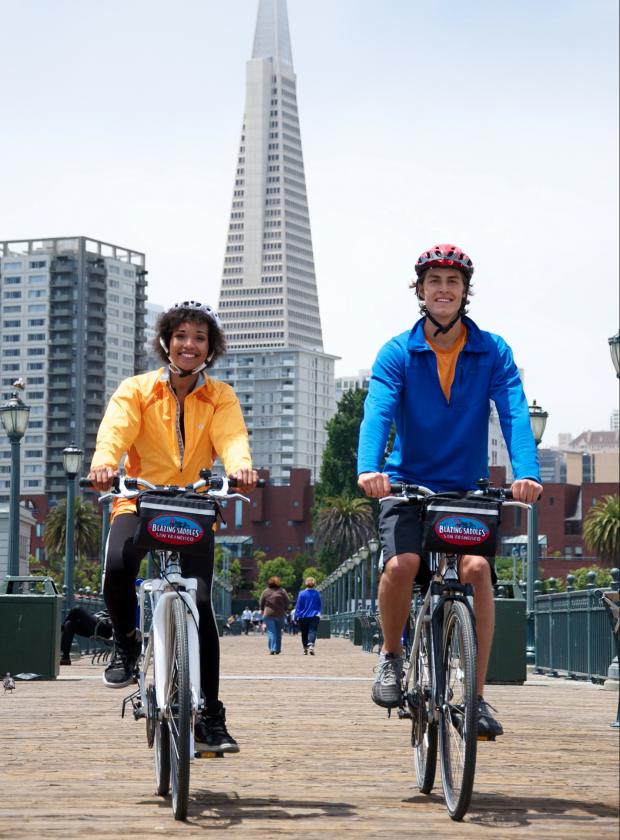 My mom and I are visiting from Virginia and all we had talked about was biking across the bridge! Everyone at blazing saddles was amazing! They helped with everything we needed ! Sara was the one who got us started and she was so great! Thanks again!
I decided to take the guided tour, as I was traveling alone and did not want to risk getting lost along the way. I had Chris as my tour guide, and he was really great - he knew a lot about the city, and always made sure we were having a good time. He allowed us to stop whenever we wanted a photo, and let us take as long as we liked to bike across the bridge. It was a fantastic trip, and I would recommend them highly!
We had such a fantastic time yesterday – thank you so very much!! The group loved the tour and [guide] Devin did a fantastic job! We were so very pleased and make memories to last a lifetime! From the welcome and getting our bikes fitted to the tour and all the interesting facts that Devin told us, you guys hit it out of the park!
We did the urban park tour which was a great way to find your bearings taking in various sites and neighbourhoods including the Castro, Mission, and Haight. We kept the bikes for the rest of the day which enabled us to do the Fisherman's Wharf and around to the Golden Gate. Owing to the extended time it makes this hire very good value. I would recommend as a thing to do on day 1 of your visit as it is a good way of orientating yourself.
FUN DAY! We had a fabulous time with our guide, Hunter. He was very interesting, patient and accommodating.
We had an amazing time with Alex, our tour guide. He lets you make multiple stops for photos, or will give you space to just keep cruising. Gave us plenty of little tidbits about the city as we made our way to the bridge.
The group loved the tour and especially the guide. I was actually in SFO to see them get dropped off at the meet-up location. It looks great and the staff is very professional. I have let my colleagues know and recommended your services for future groups. Looking forward to the next booking.
Manny A (New World Travel)
As always it was an absolute pleasure to bike with Blazing Saddles! Everybody thoroughly enjoyed the experience and we'll be more than happy to keep it top of mind for our frequent Bay Area programs.
Joseph C (WDHB Strategic Learning)
We had an AWESOME time. Thanks for all of your help, it has been one of the highlights of our trip.
Alec Z (UMichigan lacrosse team)
We spent a few days in New York City and found that New Yorkers in the service industry being rude isn't a stereotype, it's fact. Blazing Saddles staff threw a wrench in that by being engaging and helpful in every way. They got us going quickly and offered safety and security equipment and advice on how to get to some places we wanted to see. The bikes were well maintained. We are definitely going back to NYC and will assuredly use Blazing Saddles again.
We rented from the Pier 17 location - we used our New York Pass. There were 3 of us, they had enough staff there to be really helpful! One lady explained the route across the bridges to us, and they gave us maps as well, one guy signed us up and one guy took out the bicycles. Everyone was super friendly, we were so pleased with our bicycles, and the route they suggested was full of amazing views - we took so many pictures that it took us double the time we thought it would! One our return we even got a big cheer from the guys... Would definitely go back and rent, it was a great experience! Thank you!
We tried a few bike rental places in NY and this was by far the best thanks to the staff. We went to the Seaport location as this was included on our New York Pass They were friendly and took a lot of care to make sure we had everything we needed. They suggested riding the bike around the pier to make sure we were happy with it then gave us a map and some guidance on the best route to take. The bike itself was also better quality than we got elsewhere. The overall experience was made much better thanks to these touches.
My nephew and I hired bikes from Blazing Saddles and at their recommendation rode the bike path round Battery Park, up by the Hudson, through Riverside Park and across into Central Park, and back. They gave us good directions and a map, the bikes were hybrids and very easy to ride! The ride itself was brilliant - great way to see NYC and among other things we saw the round the world Clipper boat race come from on the penultimate leg, the Intrepid aircraft carrier, the intended dock for the Titanic, all the way up the Hudson river. The experience was brilliant and I'd thoroughly recommend it as a fun and active way of seeing NYC. Bike path was quite busy but we felt very safe and it is much better separated from the road than the equivalents in the UK. Full marks!
We rented two bikes for two hours while waiting for our boat tour. Since we had the New York Pass, we only needed a credit card for deposit. We got helmets, locks and a map and headed towards brooklyn bridge. The bikes were in perfect shape. The bike rental is located directly next to the piers so you can use the bike lanes next to the water where you can enjoy a good view without having to ride on the street (which is kind of an adventure in New York).
When we returned the bikes, we forgot our guidebook. We were already standing in the queue for our boat when Brian (the guy who gave us the bikes) came running and returned it to us. So thank you Brian ;)
Thanks to blazing saddles where we hired our bikes while in New York last week! The rental included bikes, lock, helmet and a map. The bikes were in good condition. A 24 hour bike rental was included with our New York City pass, so we had the bikes from 9.30am till about 4pm. We cycled down the side of the waterfront to Brooklyn bridge, across the bridge, across Manhattan bridge back to the waterfront, across to Central Park, round Central Park - then I fell off - my own fault. Then cycled back to blazing saddles. Had a great day - lovely weather, away from the crowds, my best day even though I fell!