ALL MOUNTAIN BIKE RENTALS INCLUDE: helmet, bottle cages, patch kit & pump, cycle computer, lock upon request.
Fuji Outland 29 1.1 Full Suspension Mountain Bike
Performance and Efficiency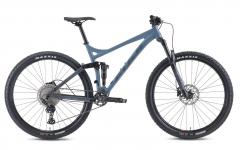 We charge a flat daily rate for all of our high-performance bikes so our riders can get the most out of their rental.
Your mountain bike rental comes fully loaded with a helmet, two bottle cages, patch kit, cycle computer and lock if requested. The patch kit is an under-seat wedge pack including the following: spare tube, patch kit, multitool, and CO2 (inflator and 2 cartridges).
To ensure the best compatibility for your high-end mountain bike rental, we recommend you bring your own pedals and we'll attach them for you. If you prefer to use ours, we carry SPD, SPD-SL, Look Original, and Look Keo. We also carry flat pedals and cages.
All of our high-performance mountain bikes are exclusively located at our 2715 Hyde Street location in Fisherman's Wharf. Our specially trained staff can assist you in your bike fitting and recommend some great routes!