All electric bike rentals include helmet, bike lock and handlebar bag.
Recommended
E-Blazer Electric Bike
Custom Bike with a Boost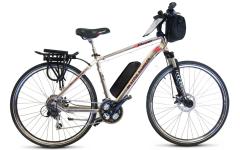 All rentals include a helmet, a lock, and a custom map.
Why should you choose an electric bike?
If you're considering an electric bike for your ride over the Golden Gate Bridge, the E-Blazer electric bike is the bike for you! These bikes have a light aluminum frame and a strong pedal assist, as well as ample range for the ride to Sausalito and even Tiburon!
Our large fleet of electric bikes is available at our 2715 Hyde Street location at Fisherman's Wharf, and our knowledgeable staff can help you decide on which bike is the best for your ride.
How long does the battery last on an electric bike?
Many factors impact upon how long your electric bike battery will last on a single charge. Road conditions, terrain, use of gears, amount of pedaling, rider height and weight, speed, how much and often the electric assist is used and how long the battery is left on all impact the battery life. While we cannot guarantee an approximate mileage, we can give you some expert tips on how to get the most out of your electric bike's battery.