ALL RENTALS INCLUDE: helmet, lock, and custom map.
Comfort Tandem
Double the fun!Manhattan - 93 South St.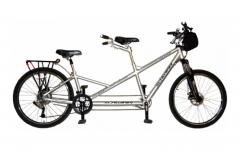 These bikes allow you to cycle together and enjoy the sights of San Francisco as a pair. They're also great for improving those communication skills! The first rider controls the gears, steering, and braking from the front seat, while the second rider helps to pedal from behind.
Having two people pedaling really makes a difference, and it's a great teamwork exercise!
You can rent a tandem at any of our locations, except for High-Performance Road Tandem which is only available in our Hyde Street store.